We offer each of our trainees up to £1,000 every summer of their degree to spend on journalism work experience or a journalism project. It's part of what makes us the UK's most practical journalism degree.
Here, trainee Jacob Bentley-York tells us about about how he spent his bursary on a trip to Brazil to cover the Copa America.
"When I think back over my experience in Brazil, the enormity of it is still hard to fathom.
As a journalist merely two years out of school, this was a dream realised and a marker for things to come.
Covering a major tournament on a different continent, in two different cities and with the freedom to do it all by myself was a testament to how far I have come, and the faith shown in me by The School of Journalism.
Like many, I'm a football enthusiast. Enticed by what it has to offer both on and off the pitch and naturally something I enjoy writing about.
During my first two years, my skills reporting and covering the sport have grown exponentially.
Sitting down after my first year with The School of Journalism, I was encouraged to aim high with the knowledge that I would be provided up to £1,000 to fulfil a journalistic ambition and project.
Having watched numerous tournaments go by from World Cups, European Championships and of course that incredibly special Olympic Games in 2012, being there reporting as a journalist was the next big step and this summer that ambition became a reality.
Here I share my experience…
Getting to Brazil
In June 2018, I came to my editor and journalism tutor Andrew Greaves with my idea that I wanted to cover the Copa America in Brazil a year later with the bursary funding given to me by the course.
As an avid traveller, I had wanted to visit Brazil for a number of years, and for a football journalist this was the spiritual home of the beautiful game – the ultimate showcase of South American passion, and a fantastic place to challenge myself both personally and professionally.
Of course, I've learnt from my time here that hardly anything in journalism comes handed to you on a plate, and the following year saw a long and arduous process as I navigated getting accreditation for a tournament on a predominantly Spanish speaking continent.
Talking with journalists and individuals from Spain to Argentina, it did at times seem like a thankless task, so much so that I, along with my editors, had decreed that we could've written a book about my experiences on just the accreditation process alone.
Eventually, after a good years' worth of cross-continental discussion, an abundance of emails, and the helping hand of our sister company Sportsbeat in London, I was finally accredited for the tournament roughly three weeks before it began.
And soon enough I was off to Rio de Janeiro for a journalistic experience I would never forget.
Quarter Final: Argentina v Venezuela
From the moment I touched down in Brazil, the pace and reality of covering a tournament was evident. My first few days were totally dedicated to the Copa America game between Argentina and Venezuela.
On my first day in Rio, I headed from one end of the city to the other to the famed Maracanã stadium to collect my accreditation.
With a lack of English speakers and the need to work out the city's Metro system, the challenges were already being thrown at me thick and fast, but this challenge was exciting, and admittedly a bit stressful.
With a lanyard round my neck sporting Inglaterra, a by-product of all that hard work, I was finally in business and my first Copa America game certainly didn't disappoint.
Heading down to the stadium I was greeted by a vibrant sea of blue and white striped shirts as I got my first taste of South American football culture. Amongst the drums, chanting and dancing, I was eager to get to work.
Once into the press area though, the game changed completely as I was surrounded by media from across the world. Cameramen and journalists all bundled into one big room, all here to see a Lionel Messi-led Argentina side in the Copa America quarter-final clash.
Summing up that first moment I walked out into the press box at the Maracanã is something I'll cherish for the rest of my life. Not only the experience of visiting the historic stadium for the first time, but doing it as an accredited journalist.
Serving up a match report among this colourful ambience was just the tip of the iceberg as a thunderous game between the two sides imploded with honorary Mancunian Sergio Aguero on the scoresheet to round off a 2-0 win for the Argentinians.
With a keen eye to add a bit of gloss to the report, I headed down to the mixed zone for another experience on the trip that I can only categorise as a baptism of fire.
Engulfed by a frenzy of journalists and camera crew, the whole room waited in anticipation for the arrival of Messi as I was firmly introduced to the rat race to acquire the best quotes.
Naturally, as someone with a lack of Spanish, this was a tough opening gig. But with the fortunate help of a colleague providing some timely translations, my match report was off to the London office and we were onto game two.
Semi Final: Brazil v Argentina
Having only just acclimatised to the new city, I soon was off on my travels once again merely a few days later – this time to the jungle city of Belo Horizonte for the heavyweight semi-final clash between Brazil and Argentina.
Flying domestically with a Chilean airline to the jungle city further inland, it became apparent that my ingenuity in communication would be tested further, given this was a city simply not kitted out for tourists or anyone other than a speaker of the native tongue.
Let's just say Google translate was very handy!
Belo Horizonte means beautiful horizon in English and now I see why. Some stunning views. 😍 pic.twitter.com/JpwB2EzB2U

— Jacob Bentley-York (@JBentley_York) July 4, 2019
Despite the initial language barrier, I was soon talking through the universal language of football, greeted with the kind of atmosphere that you'd expect a continental competition of this magnitude to bring.
The city centre was predictably brimming with fans of both teams as the anticipation grew for one of the fiercest international rivalries on the planet.
The match, with the unusually late kick-off time off time of 9:30pm, was held at the Mineirão stadium, roughly 30 minutes outside the city.
Jumping into a taxi along the way, I joined the band of Brazilians and Argentinians up the motorway as the city became consumed by the match.
With roughly two and half hours to kick off though, I was turfed out onto the side of the motorway with my taxi driver unwilling to persist any further in traffic that resembled a scene you might see on the M6.
In what already felt like the middle of the night, bearing in mind it was winter time in Brazil, I headed up the hill with a sea of yellow and green shirts with a similar passionate ambience that I had experienced the week prior.
After finally making my way through the crowds and security, I made it into the press area and up into the press box, even managing to grab myself my own desk with the 'big wigs' on this occasion.
With a perfect view of the pitch, the teams were out and, following two ear-shattering passionate renditions of the national anthems, we were off.
Like the first game, the score finished 2-0, this time to the Brazilians. Again, it was the Premier League stars on show as Manchester City's Gabriel Jesus and Liverpool's Roberto Firmino netted for the hosts.
Following the game, I made a concerted effort in the mixed zone with a better understanding of just what I was going to face.
Teaming up with a band of Dutch journalists I had met while waiting, I got my first mixed zone breakthrough, grabbing a word with Liverpool's Alisson Becker following Brazil's victory.
With a cohesive and rather exclusive line of the comparison he would make between his experiences with Liverpool in the Champions League and that with his national team, I headed back into the city centre at about 2am local time, landing my finished quote-led match report in the early hours and utilising the four-hour time difference to the UK.
The favela experience
I headed back to Rio two days later and I was onto the last leg as all eyes pointed to the final. Hosts Brazil were up against a spirited Peru side who had been the shock of the tournament having knocked out Uruguay and reigning champions Chile.
Despite the final game in sight, I managed to squeeze in one extra experience that I simply couldn't have prepared for – perhaps even topping anything else.
Having done some research a week prior, I arranged the perfect opportunity to see what you could deem the real Brazil. A trip to a favela.
Having researched possible story ideas, I managed to meet Adam Reid, a Scottish ex-pat who had been part of the British 'Gringo' Community in Rio for more than 40 years and had recently been awarded an MBE for his work out in Brazil with the charity Street Child United Brazil.
We agreed to meet in central Rio and I accompanied him to visit a flagship football pitch he had built in one of the city's poorest districts known as Penha.
With three modes of transport, eating with the locals and the ominous threat of getting caught up in a drug war, it was an experience that had everything and proof that doing something different really does pay off!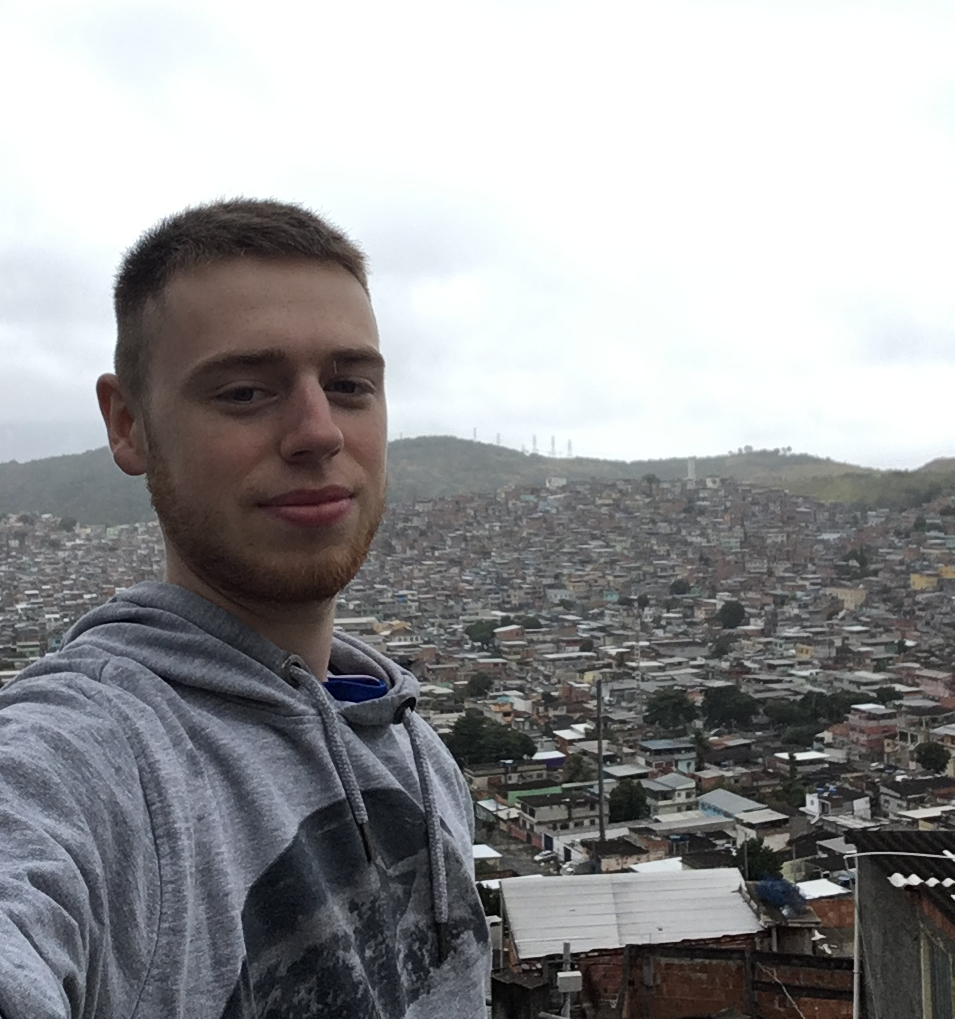 Final: Brazil v Peru
My final week drew to a close and it was time for the final back at the Maracanã for the showdown between hosts Brazil and spirted underdogs Peru competing in their first final since the 1970s.
The press box was unsurprisingly lively and packed to the rafters with journalists eager to see if the favourites would take the opportunity to lift silverware on home soil – I even got to the game four hours early to ensure I got a seat.
The game itself was another aesthetic spectacle. With noise and colour from both sets of supporters as well as a spectacular pre-match show, the tone was set for the early evening kick off as the game exploded into life between the two South American nations.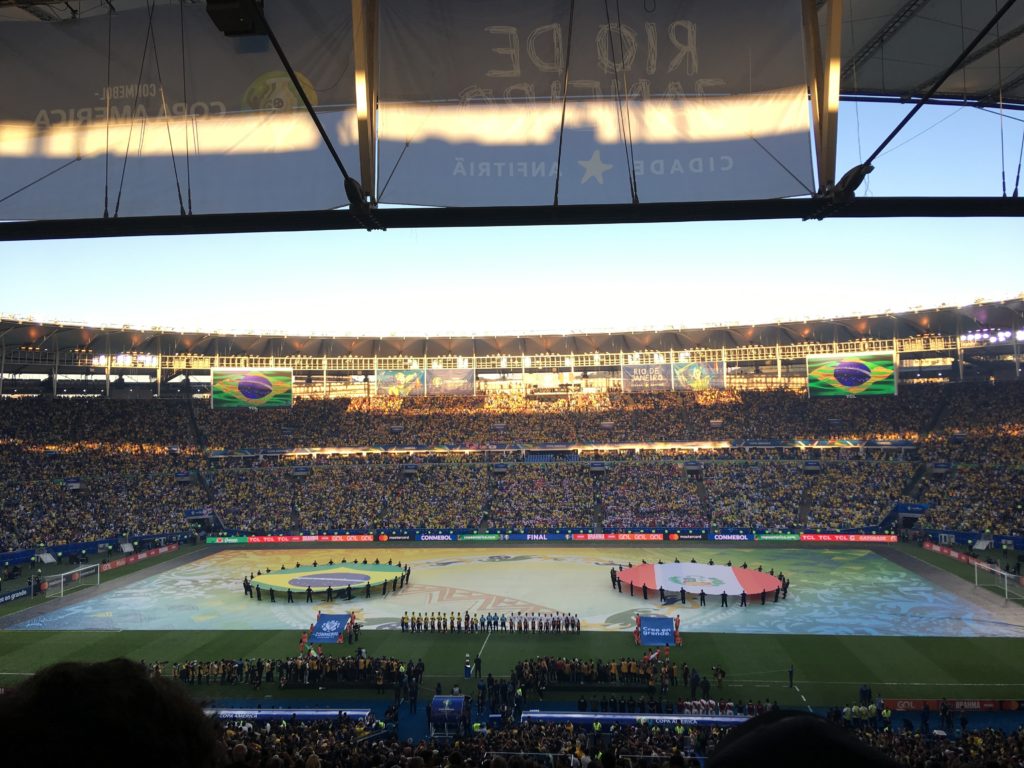 With four goals, VAR intervention and a red card, it had just about everything.
The game ended Brazil 3-1 Peru. The host nation had come through despite all the pressure, and as a journalist I couldn't help but feel, at least from a narrative perspective, that this was the perfect ending to a great tournament and a fantastic journalistic experience.
The hosts lifted the trophy and my work was over. Squeezing in a trip to Sugarloaf Mountain and the spectacular Christ the Redeemer in the final few days, I headed back home having done everything I wanted with a renewed confidence that this was just the beginning.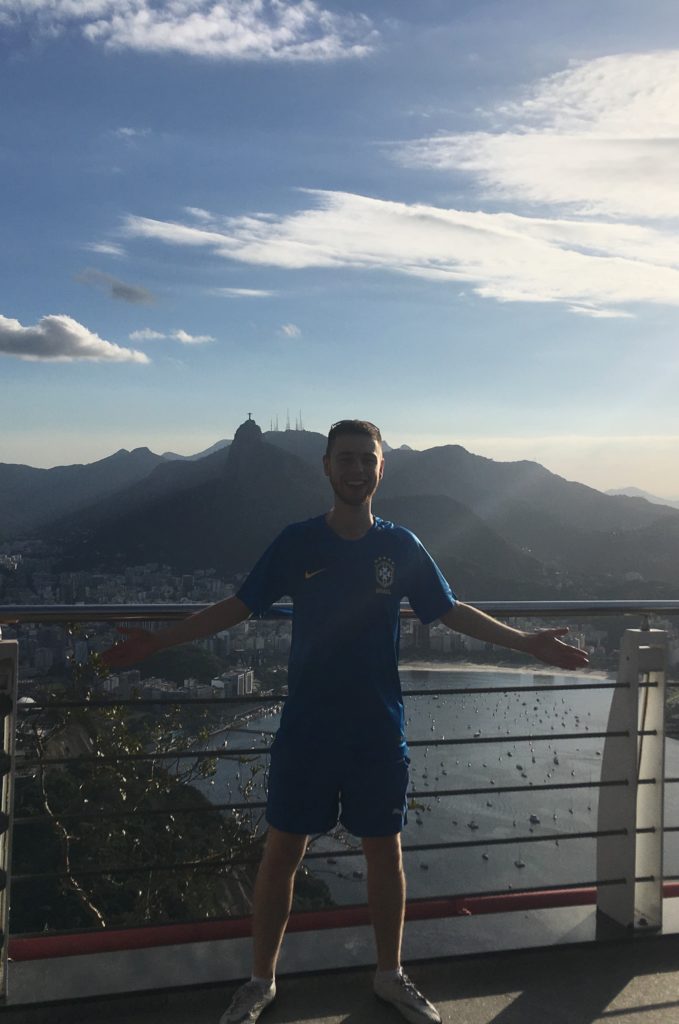 Obrigado Brazil."
To apply for our NCTJ-accredited BA (Hons) Journalism degree in London, here is the UCAS code you need:
Course code: MUJO
Institution code: P63
Campus: London (L)
Want to know how to land your dream journalism work experience placement? Click here.
Got a question about how to become a journalist? Email [email protected] and check out our other getting into journalism blogs here.