ENROLLING
NOW

FOR MANCHESTER AND LONDON 2022
THE UK'S MOST PRACTICAL JOURNALISM DEGREE
GUARANTEED & PAID WORK EXPERIENCE WORTH UP TO £1K EVERY SUMMER
FREE JOURNALISM TOOLKIT FOR EVERY TRAINEE
THE UK'S NUMBER ONE NCTJ ACCREDITED JOURNALISM DEGREE
The School of Journalism, a unique collaboration between News Associates and Marjon University, is the number one journalism undergraduate degree in the UK.
Each year we will offer a select group of students the chance to study in our London or Manchester campus and join the most innovative and practical BA (Hons) Multimedia Journalism degree in the UK.
This is the only UK journalism degree programme designed and delivered by a news organisation. You will become a journalist from day one: you will write, produce and edit stories straight away and will get unrivalled support in finding journalism work experience in the industry.
To help you get started, you will receive a free journalism toolkit. The kit includes an iPad, multimedia apps to help you with the course, and a dictaphone to support you throughout your studies.
The School of Journalism, run by News Associates, is accredited by the National Council for the Training of Journalists (NCTJ). In 2016, the top NCTJ courses in the UK were all taught by News Associates – eclipsing those taught at universities. And in 2022, we're still the best – The School of Journalism Manchester achieved the top results for any undergraduate journalism degree in the country.
The School of Journalism will make sure you leave with an impressive academic record. But more importantly you will be an all-round journalist armed with all the essential practical skills and necessary industry qualifications to walk straight into a journalism job. Whether you want to become a photojournalist, sports journalist, fashion reporter, news reporter or travel writer, this course will ensure you are ready to kick-start your journalism career.
To find out more about The School of Journalism and its BA (Hons) Multimedia Journalism degree, visit our course content section. If you want to get a taster for the industry and find out if journalism is for you, sign up to one of our free journalism masterclasses.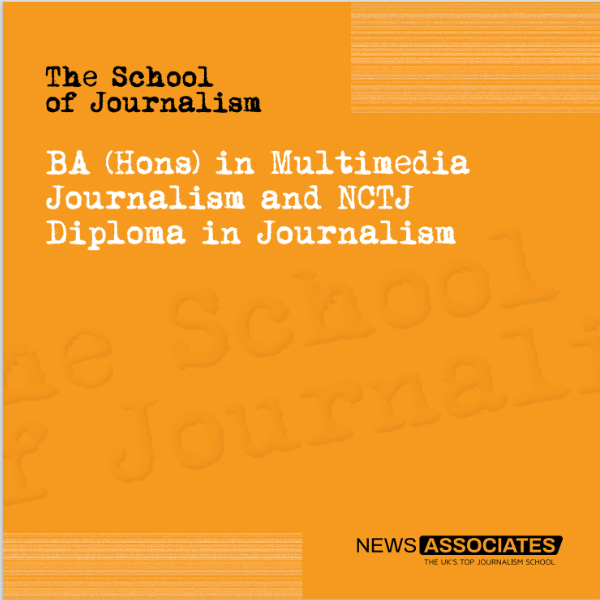 To download our September 2022 course prospectus click on the image above or email [email protected] to request a hard copy.