Here are some of The School of Journalism FAQs. If you still want to know more, email [email protected] or call 0203 026 3781.
What is The School of Journalism?
The School of Journalism is the UK's most practical journalism degree, offering all students £1,000 for a journalism project or paid work placement every summer of their degree.
The School of Journalism is a unique partnership between the UK's number one NCTJ journalism school, News Associates, and Marjon University.

What are the UCAS details for The School of Journalism?
Our course code is P500 and our institution code is P63.


Who awards your degree?
Our BA (Hons) Journalism degree is accredited by Marjon University (based in Plymouth), who will ensure academic rigour.
But you will be taught by News Associates' award-winning journalists in London or Manchester.
What are the course fees?
The course costs £9,000 a year. For more information about fees and funding, click here.
Is everyone entitled to a free journalism toolkit?
Yes, every School of Journalism student will receive a free journalism toolkit on their first day.
The toolkit will include a national press card to help you land stories that other trainees can only dream of, an Apple Ipad loaded with essential multimedia apps to be used during your mobile video lessons and to build that all-important portfolio, and a dictaphone to help you master interviewing before you've passed shorthand.
Can everyone write for Mancunian Matters/ South West Londoner during their studies?
Yes, this is encouraged and a lot of practical lesson time will include sourcing and writing stories for Mancunuian Matters and South West Londoner.
What is the NCTJ and is the course NCTJ accredited?
The National Council for the Training of Journalists administers the industry's gold-standard qualification for aspiring reporters in the UK. And most journalism jobs require the NCTJ qualification, including 100 words per minute Teeline shorthand.
To get gold standard you need to achieve A-C grades in all your exams and pass 100 words per minute Teeline shorthand.
At The School of Journalism you will be taught by News Associates who are offically the UK's number one NCTJ journalism school – and have been for the last five years.
Yes, The School of Journalism is NCTJ-accredited.
In addition to the research and analysis elements of your BA (Hons) in Journalism, you will study the core elements of the NCTJ curriculum: journalism ethics, news reporting, Teeline shorthand, media law, public affairs, production journalism, sports journalism and video journalism for online.
See our accreditation confirmation on the NCTJ website.
Can I work in magazines and broadcast as well as newspapers and online?
Our News Associates journalism graduates move on to a wide range of roles, including magazine feature writers, presenters and videographers, as well as news reporters and foreign correspondents.
You'll also leave qualified for a whole range of jobs which require strong writing and communication skills, such as publishing, PR and communications, and marketing roles.
Will you help me find a job?
We're passionate about the fact that our job isn't over until you are taking your first steps in the industry. We have an unrivalled network of alumni contacts to help and will work with you to write the perfect CV and cover letter.
We'll focus on employability skills and help you prepare for a job interview, as well hold sessions on where to find jobs.

What are your entry requirements?
We will offer just 25 places on our September 2018 intake in Manchester and we are looking for the best student journalists in the UK.
Our finalised UCAS points offer is still being decided but every prospective student will be required to attend an assessment day, which will include an interview with our senior teaching and editorial staff.
Contact us on [email protected] or call 0203 026 3781 for more details on how to apply.

Do you hold open days?
We will hold a series of free journalism masterclasses and open evenings in London and Manchester. You will be put through your paces in a series of practical multimedia exercises, get a chance to meet our journalists and tutors and ask our admissions team all about the course.
Fill out the 'register an interest' form to receive more details.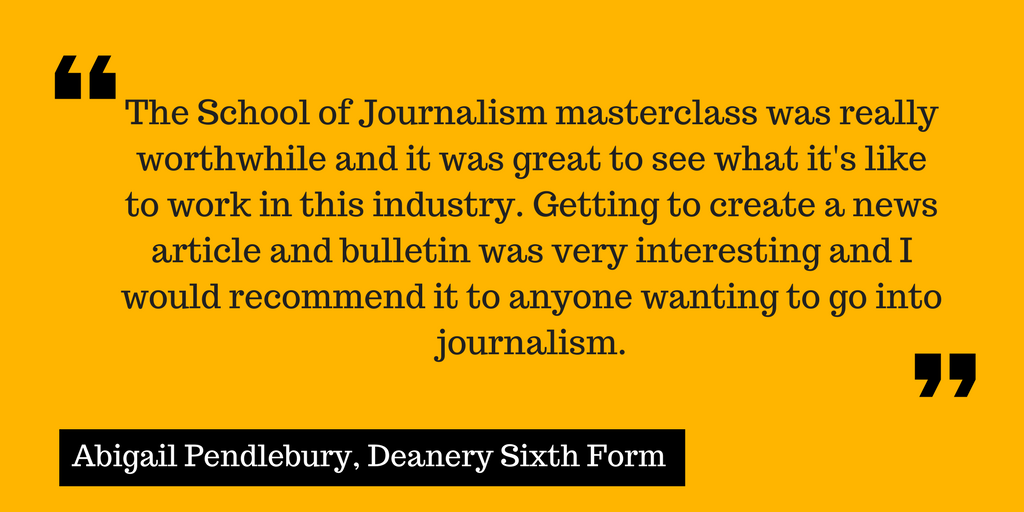 Will I get a student card?
Of course. On your first day you can join the National Union of Students and get one of their NUS extra cards, which entitles you to lots of fantastic discounts.
Can I talk to someone or come and have a look round before I make my decision?
Why not attend one of our free journalism masterclasses to meet the team, but we're also more than happy to book a time for you to come and ask us your questions. Please email us at [email protected] or call us on 0203 026 3781.
What is your equal opportunities policy?
News Associates is fully committed to providing equal opportunities for all our training programmes and will never discriminate an application on grounds of age, disability, ethnic or national origin, gender, race, religion or sexual orientation.
We will make reasonable adjustments, in consultation with the National Council for the Training of Journalists, to our practices and procedures to accommodate the needs of anyone with a disability.
Can I apply if I'm based internationally?
International students can apply directly to the University. See http://www.marjon.ac.uk/courses/international/ for more details.