A DAY IN THE LIFE OF A SCHOOL OF JOURNALISM TRAINEE
From the moment you start at The School of Journalism, you become a working journalist, pitching, writing and editing your own stories. Our classroom is your newsroom, and you're treated as a trainee from the day you arrive.
First year trainee Mia Williams describes an average day training to be a journalist…
We start the day looking over and discussing the breaking news stories from that morning, and if something significant has happened in the surrounding area, you know exactly where we're heading next!
On an average day in first year, you will follow this up with an ethics lesson, ensuring  you are always able to stick to the code of conduct in the newsroom, and making sure your journalism is ethical.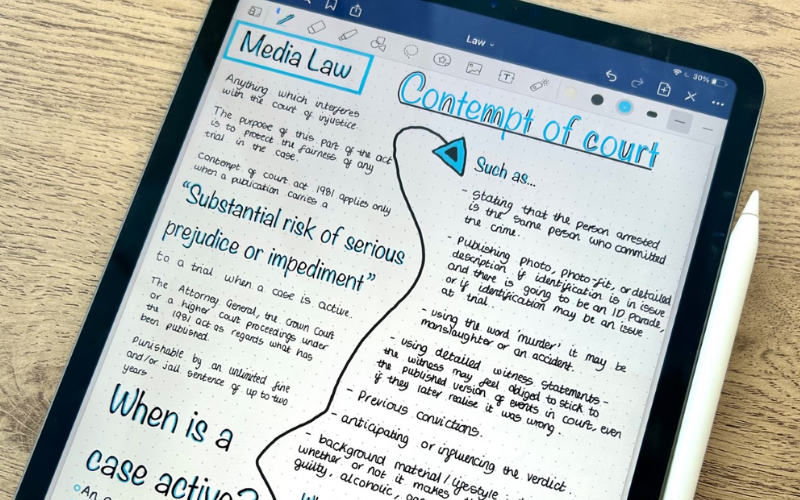 First year at The School of Journalism is where your journalism career really gets its kick-start, and you'll be learning a whole host of new skills to put into your industry toolkit. 
You will study: Journalism ethics, news reporting, media law, public affairs, production journalism and video journalism. And that's just the first year! You can access the entire course overview here. 
As trainees we are prepared for all forms of journalism, whether that be broadcast, print, online or even podcasting.
In second and third year, you're going to be put in front of a green screen to read from an autocue, tell me you don't feel like a real journalist already…!
The afternoon will see all years at The School of Journalism come together for a debate, discussing a controversial news story that has been talked about widely during the week, and trust me when I say, it can get rather heated.
Followingly our friendly, but nonetheless passionate debate, as we journalists always have something to say, we return back to the classroom to find and write up some stories.
Our day varies week by week, sometimes we may have a guest speaker come in from the BBC, The Guardian, and other established national outlets, to talk to us about a specific topic. Recently we got the opportunity to meet Victoria Derbyshire and pick her brains about how she got to where she is within the industry!
Click here to read what our trainees learnt from Victoria Derbyshire.
Being a trainee at The School of Journalism is by far the best decision I have ever made. If you feel you want to pursue and explore a career that will put you through your paces, but equally be the most rewarding and exciting job where everyday is different, I urge you to apply.
Journalism isn't an easy industry to break into, as we all know, but applying to The School of Journalism, surrounded by industry experts and a team that only want to see you succeed, is the first step you need to take. 
If that sounds like the university experience for you, here's how to apply to the UK's number one journalism school to study the BA (Hons) Multimedia Journalism degree with NCTJ accreditation. 
https://www.tiktok.com/@newsassociates_/video/7184400263212584198?is_from_webapp=1&sender_device=pc&web_id=7163328388390946309