We're big fans of sport at The School of Journalism – which is why every trainee gets the option to study sports journalism as part of their BA (Hons) Multimedia Journalism degree. 
Our NCTJ sports journalism module is run in association with Britain's leading sports press agency Sportsbeat – and you learn from tutors with first-hand experience in sports reporting!
Our media links put us at the heart of the industry. Our news and sports agencies, including Sportsbeat, produce more than 75,000 stories for 500 media organisations each year.
We are the official news agency for a host of organisations providing content to clients as diverse as the Football Association, the British Olympic Association and the National Lottery, with content on all platforms from newspapers to radio stations, magazines to social media and TV to magazines.
It's really important to train as an all-round journalist – and get your NCTJ Diploma – with a sports journalism qualification as an added bonus, rather than pigeonhole yourself too early. On our course you'll learn all the essential skills to thrive in every area of journalism – studying media law, audio journalism and feature writing, for example – and also have the option to specialise in sports journalism.
As well as writing for our in-house publications, our trainees get unrivalled opportunities to carry out external work placements – and sports journalism placements are often some of the most popular. 
Our summer bursary scheme offers you up to £1,000 each summer to carry out a journalism project or placement of your choice, and in recent years our trainees have gone above and beyond to get the best possible start to their careers in sports journalism. 
Andreas joined Sportsbeat in Munich to cover the 2022 European Championships and interviewed athletes in the mixed zone. 
While Ben got the chance to cover the AIG Women's Open golf championship in Scotland and meet some of the sport's biggest stars.
Jake got accreditation to attend the Copa America in Brazil and had all of his work published on Yahoo Sport.
And Luke organised the filming of a boxing documentary in Bermuda!
Closer to home, Will travelled to London to make a sports documentary centred on a local football club.
Matt carried out an internship with an extreme sports media network!
And Lily spent her bursary at the MailOnline, where she covered the celebrations after England won the UEFA Women's Euro final in 2022.
As well as learning the ins and outs of sports journalism from our tutors, our trainees have access to an incredible network of alumni working across the sports journalism industry, as well as regular guest speakers who give their top tips and insights.
You can find our trainees and graduates on the back pages of our national newspapers, presenting and reporting on Sky Sports News, or working internationally for some of the most respected names in journalism, from Reuters to Agence France Presse. 
They have also made their way to the media departments of Premier League football clubs and national governing bodies, from the British Olympic Association to the MCC.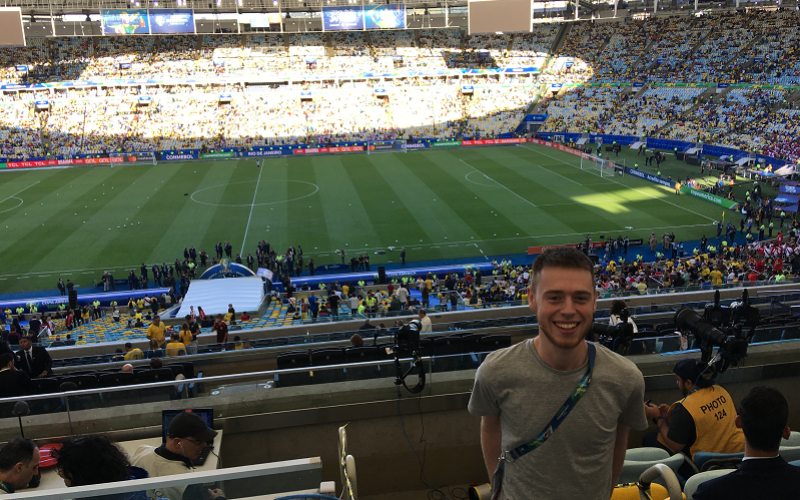 View this post on Instagram