We offer each of our trainees a summer bursary of up to £1,000 every year of their degree to spend on journalism work experience or a journalism project, giving them the unique opportunity to travel and explore the areas of journalism they are passionate about.
Here, second year trainee Jess Sharkey tells us about how she spent her summer covering local stories at work experience for Teesside Live.
Growing up in a small town as an aspiring journalist meant that local journalism was a huge part of my life before moving to Manchester.
The local stories I was raised on were told by the people they belonged to, and even though they are often not reported nationally they mattered to the local communities who read them.
So, I knew work experience on a local paper would be the perfect thing to do with my extra time in the summer.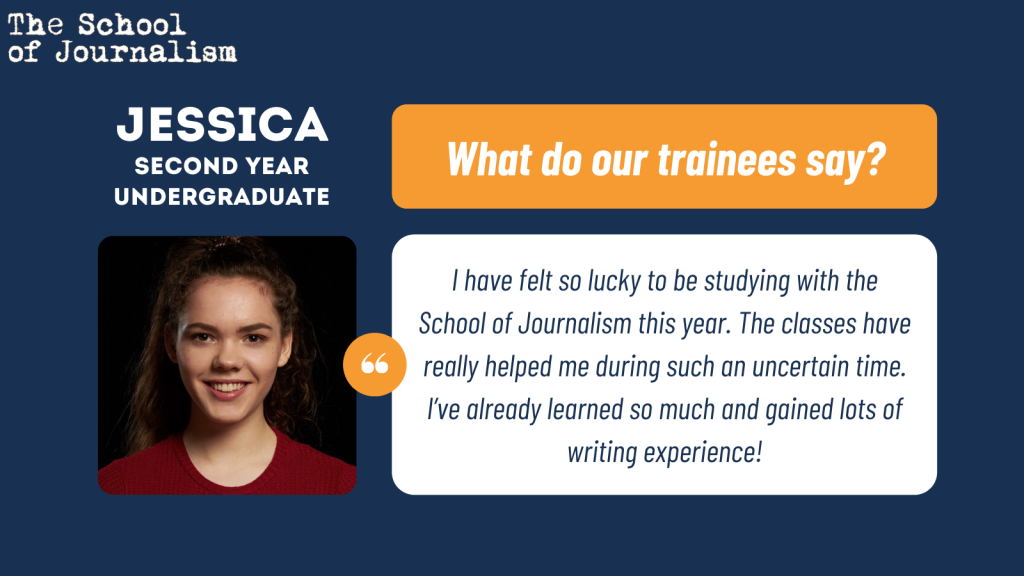 The School of Journalism bursary meant I could travel back home and spend a week learning from the team behind Teesside Live, a Reach PLC news website.
I didn't have to worry about any shifts at work I'd have to miss which meant my only focus was delving into the world of strict deadlines and back-and-forth travelling.
The meetings with the team were held on Zoom but that didn't mean my experience was. I was reporting during the eventful final week of the Euros, so I was sent around Teesside vox-popping everyone I found on their predictions for England's long-anticipated semi-final match against Denmark. It was happy news, thankfully!
On my first day of work experience, I got the chance to speak to an incredible woman in Saltburn who had created quirky designs with a fun Teesside spin on seaside-themed socks. Of course, the famous Middlesbrough parmo is included!  It was such a fun, cheerful story to work on and even Andy Preston, the mayor of Middlesbrough tweeted about them.
Teesside seaside socks!

Featuring the parmo, the lemon top and the cliff lift.

Which would you wear?! pic.twitter.com/X3rOcgNsP6

— Andy Preston Mayor (@Tees_Issues) July 8, 2021
Over the course of the week I filed stories on Euros-themed wedding days, police force recruitments and child tennis prodigies. Most of my days were spent conducting either phone interviews or vox-pops, or doing research for my next day of deadlines.
I even got to pitch my own original idea to the team. I arranged an interview with Teesside charity NiteLite CIC, an organisation bringing technology to the heart of helping others on the streets of our local communities.
As well as learning on the job, I also got a chance to have an informative chat with one of the newest trainee reporters on the Teesside Live team. It was so helpful to chat to a friendly face who is also just starting her journalistic career.
I honed my time-keeping skills, worked to improve my writing skills with every new article and learnt about the database and technology that keeps such a vast online publication running across various platforms.
I learnt a lot from working on local stories for a Reach PLC paper and I really enjoyed the experience. The fast-paced workdays, the travelling and the camaraderie of a close-knit newsroom all confirmed that this is exactly what I want to be doing.
The School of Journalism is the number one NCTJ-accredited journalism undergraduate degree in the UK, delivered in the heart of Manchester and London.
Read why should apply to join The School of Journalism in 2022.