Do you want to study journalism at university? Here's why you should apply to The School of Journalism in London.
The School of Journalism is a BA (Hons) Multimedia Journalism degree, offered through a unique collaboration between the UK's number one NCTJ journalism training school News Associates and Marjon University.
First-hand journalism experience
If you study journalism at The School of Journalism, you won't be a student – you'll be a trainee journalist doing real-life journalism from your first day.
You'll get stuck in interviewing politicians and artists, attending press events, and writing, filming and recording video pieces and podcasts straight away. Our trainees even recently covered the London local elections! 
The best way to learn how to be a journalist is by doing it, so we'll give you the support and resources needed to get loads of experience under your belt.
Every trainee can explore news, features, sports and review writing for our publications South West Londoner or Mancunian Matters – but that's not all!
Unrivalled opportunities
You'll also get the chance to practise your journalism skills across a range of work placements. We've had trainees doing work experience everywhere from CNN and The Times in London to the Olive Press in Spain and Time Out magazine in Dubai.
The School of Journalism offers each trainee a bursary of up to £1,000 each summer to do a either a work placement or journalism project of your choice.
This is a great opportunity to develop your skills, make professional connections and discover your journalistic passions.
From Cannes Film Festival to the Copa America football tournament in Brazil, our trainees have explored journalism around the world!
You'll be expected to keep up with modern technology and produce multimedia content – so we'll also give you a free iPad on your first day!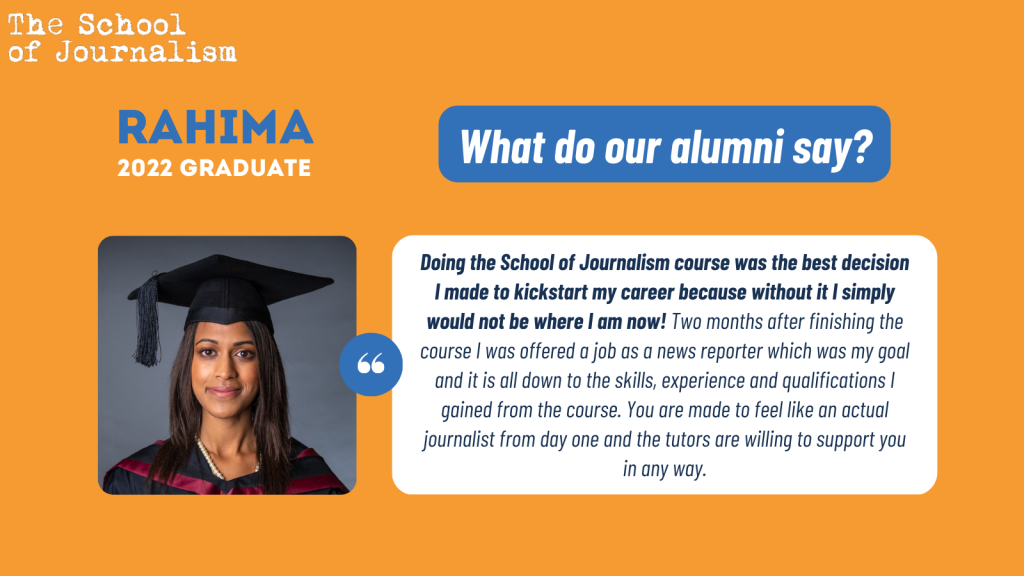 Study in London
You'll be a stone's throw away from central London, the largest and most exciting city in the UK.
Our London centre in Twickenham is just around the corner from the beautiful River Thames and a short journey from central London.
You would be perfectly located to reach work placements at newspapers and broadcasters across the capital, such as The Times, Sky News, The Evening Standard and more.
View this post on Instagram
Trusted and respected in the media industry
Our media links put us at the heart of the journalism landscape. News Associates is part of Beat Media Group which includes news and sports agencies Storybeat and Sportsbeat.
These agencies produce thousands of stories across newspapers, TV, radio stations, magazines, social media and more for some of the biggest names in the industry.
At The School of Journalism we often invite alumni and inspiring guest speakers to share their expertise and advise with trainees, including at our annual journalism conference JournoFest! These events provide invaluable networking opportunities for our trainees, as well as essential insights into what being a journalist is really like.
Our guest speakers have included some of the biggest names in the business, such as BBC media editor Amol Rajan, Sky News presenter Dermot Murnaghan, ITV News presenter Julie Etchingham and Times journalist and podcast host Manveen Rana.
A degree and an NCTJ in one
If you study journalism with us, you'll be working towards not only a BA (Hons) degree but an NCTJ diploma too.
The NCTJ is the respected industry-standard qualification you need to get a journalism job after graduating.
Find out more about what the NCTJ is and why it is important for aspiring journalists here. 
A degree with a difference
At The School of Journalism, we do things differently. News Associates' practical and dedicated approach to teaching sets us apart from more traditional universities, earning us the Innovation of the Year award at the 2020 NCTJ Awards for Excellence.
Rather than being taught by lecturers, you'll be taught out of our newsrooms by award-winning editors who have experience working across the journalism industry!
With our small class sizes, our tutors will get to know you and your passions from the first day and will work with you to give you the best opportunities going forward.
We're number one
The School of Journalism is the best NCTJ journalism degree in the UK, topping the NCTJ exam league tables.
100% of our class of 2020 achieved gold-standard NCTJ diplomas – a record-breaking achievement – while 71% also achieved first-class degrees.
In the years on record 2013-2019 the gold-standard NCTJ pass rate for the number one-ranked accredited undergraduate courses were 50%, 48.78%, 55.56%, 59.46%, 38.46%, 50% and 38.46% – showing just how impressive our graduates' achievements were.
Sound like the perfect journalism degree for you? Register your interest here to find out how to apply for The School of Journalism and to be invited to our next free virtual events.