We spoke with Richard Amofa, The Athletic staff editor and News Associates alumnus, about how he got into sports journalism and what his advice would be for young people wanting to break into the industry.
Richard's route into sports journalism
Why did you want to become a sports journalist?
Sports has always been an interest, as I grew up playing football and used to play for QPR. When I stopped playing, I wanted to stay within the football industry and sports journalism seemed like the best route.
What was your route into sports journalism?
I started a website at university which focused on young academy footballers. At the time, there was a big debate in the media about whether clubs were producing enough talented English players for the future.
My mates and I weren't happy with the narrative that was being peddled so we explored it. The website grew quite well and we tried to make it as professional as possible – we interviewed players and coaches and ended up with about 70 writers across the country.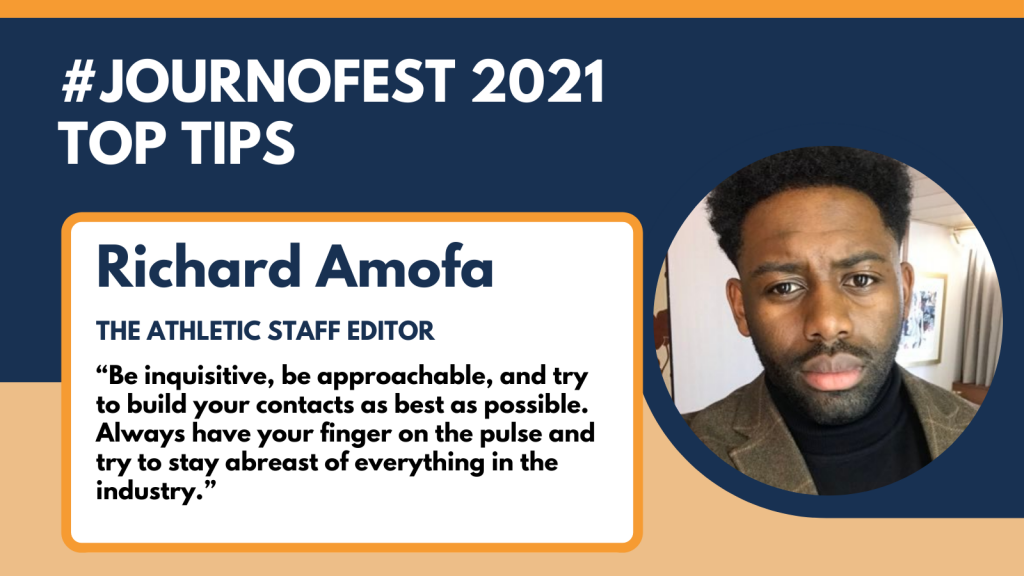 I found out about News Associates and thought I should take the next step and get qualified. I trained on the part-time course while working in marketing, and while I was there I did work experience at a local paper and worked at the Mail freelancing at the weekend.
I then got an internship at Telegraph Sport, which was fantastic and gave me great experience.
Are there any sports journalists who particularly inspire you?
There are of course the big names in the industry. When I was starting out, I looked up to Darren Lewis at the Mirror, Henry Winter at Times Sport, Sam Wallace at The Telegraph, and David Ornstein at The Athletic – these are people at the top of their profession and it helps to realise early on that this is the level you need to be at.
What has been your proudest moment in your career so far?
At The Telegraph I did an exclusive feature on Manchester City and their academy. I went up there and spent time with their academy director and he showed me around their training ground and showed me great insight into what they do at the club.
I'm also proud of a lot of the news pieces I've written when working in local news.
What is your favourite thing about your job?
I love being around so many great reporters at the top of their game, creating great content. The quality is just incredible and so inspiring.
Getting into sports journalism
What are your three top tips for aspiring sports journalists?
Try to build your contacts – they're really key when you're looking for stories or producing good background pieces.
Be really inquisitive – always try to dig deeper and make sure you're cross-referencing and double-checking things. It's always good to get a second source to back up what one source is saying, because they might not be correct or you might need more detail to inform the reader.
Be knowledgeable and make sure you're clued up on as much as possible. When you have background information it does help you see how things link together and gain a better picture.
View this post on Instagram
Do you have any tips for sixth form students on getting into journalism?
Don't be afraid to get started, you're never too young! Ask for experience at papers or do your own thing – you can start a YouTube channel or a podcast, there are so many ways to create content now.
Just get started and build on your quality as you go along. You never know how far you might get.
What's the biggest mistake aspiring sports journalists make?
When I was younger, I was maybe not as prepared as I should have been. Make sure you're ready for job interviews and you've got things to show people and prove why they should hire you.
You should also make sure when you're on work experience you don't just sit in a corner and do what's given to you.
If someone has one work experience person every week, that's 52 people in a year – what are you doing to stand out? Do things that will make them remember you and think about what you can provide that's different.
Is it better to have a wide knowledge of sports or to specialise in one area?
It does help to have an acute knowledge of something specific – you don't want to be a jack of all trades, master of none. If you have some particular knowledge you can build an avenue for yourself.
At The Athletic we have reporters at each and every club – they know the club inside out and they know everything going on 24/7. They've built the avenue for themselves to be the go-to person for that club.
But having said that, you shouldn't completely put yourself in a box and having knowledge of other things helps to build the bigger picture.
Is having a social media presence important for sports journalists?
Yes and no… if you're offering good value to your followers it definitely does help as social media is your shop window.
It shouldn't be the be-all and end-all but if people are drawn to your content, people might be more likely to engage with your journalism as well.
Read about how @livburke_ went from School of Journalism trainee to world news reporter 💫👇 #StartedHere #FridayFeelinghttps://t.co/WAZcoQmuLS

— School of Journalism (@TheJournoSchool) March 26, 2021
Training to be a sports journalist
What were the most important skills you learnt during your NCTJ training?
Attention to detail, speed and accuracy! Accuracy is key – of course you want to be first on a story but don't be first and wrong.
Do you need an NCTJ to get into sports journalism?
It definitely helps because an employer knows with an NCTJ you've had top quality training.
There are a lot of university courses teaching journalism courses but not with any accreditation valued by employers, which I don't think is very fair.
If you're picking a journalism course, choose one with NCTJ accreditation. In many industries you need a qualification to get on the ladder – why should journalism be any different?
We have loads of great career advice on our blogs page, including an interview with another News Associates alumna on how she got into entertainment journalism!