We offer each of our trainees a summer bursary of up to £1,000 every year of their degree to spend on journalism work experience or a journalism project, giving them the unique opportunity to travel and explore the areas of journalism they are passionate about.
Here, third year trainee Joseph Marshall tells us about how he spent his summer work experience covering local stories in Hampstead, Highgate and Camden.
Back in July, I had intensive first hand work experience reporting for local newspapers in north London. The Hampstead and Highgate Express, Camden New Journal (CNJ) and Westminster Extra threw me in at the deep end, immediately sending me out to cover flash floods, Soho nightlife and the local skate scene.
At Ham & High there was a Zoom call every morning with the editor and a small team of journos. I would pitch ideas or they would ask me to go to where a story was happening. I learnt to be adaptable and prepared to turn over copy at speed.
It was a similar story at CNJ, although by that stage of the pandemic they were meeting at their office in person.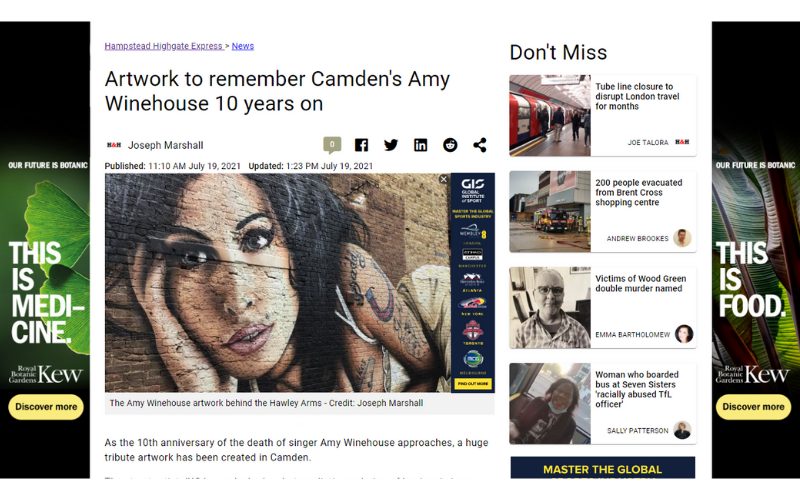 I honed my interview skills speaking to business owners in the West End. There were setbacks, particularly when people who initially seemed happy to comment on an issue changed their minds completely. This made me more resilient and I realised the value in getting the point of view of someone who is not an obvious choice. 
At CNJ an exciting series of events unfolded when a journalist had her bike stolen. She managed to trace it to an online retailer, before setting up a sting operation whereby she met them in person, posing as a buyer. At this point the police stepped in and the dodgy dealer was led away for questioning. The bike was returned to its rightful owner and what could have been a hairy situation made for a great story in that week's edition.
Trainee @jessmsharkey has always loved local journalism 📍

So this year she spent her summer bursary covering fascinating local stories for @TeessideLive! 👇 #StartedHerehttps://t.co/D3L31UsqYJ

— School of Journalism (@TheJournoSchool) December 6, 2021
I had to be resourceful when putting together a piece on a tribute artwork of Amy Winehouse. The pub owner I originally wanted to interview didn't want to talk to the press, so I had to think outside the box, contacting a third party, who then put me in touch with a friend of Amy Winehouse. 
I also had my first experience of a rude contact who emailed to insult my line of questioning. Thankfully, the editor agreed the contact was in the wrong and told me not to pursue any further comment.
After four weeks of writing, I had around 16 bylines and felt as though I had 'levelled up' in my journalistic skill set.
Read Joe's piece on guided poetry tours at Hampstead Heath.
Click here to join our free taster events to experience what it's like to be a journalist and study on our BA (Hons) Multimedia Journalism degree. 
Featured image: Hampstead Heath. Credit: Canva